Train as a Practitioner of Havening Techniques®

ENQUIRE about or SIGN UP for a TRAINING
Training Dates: IN-ROOM 9-10 December 2023 in Kawai Purapura Centre, Albany, Auckland, New Zealand
ONLINE 23-24 March 2024, New Zealand time
Book a Session
ENQUIRE about or BOOK a SESSION
---
The brain is continuously changing in response to new experiences. You can let your brain change by chance, or you can CHANGE YOUR BRAIN BY CHOICE.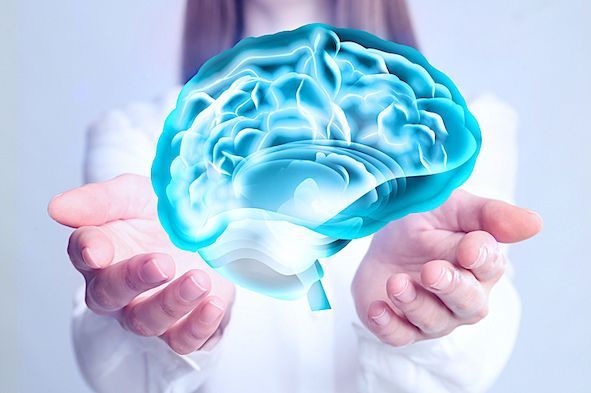 The Neuroscience of Handling Your Brain with Love

What Is Havening?
Havening is an innovative, gentle, and highly effective approach to working with intense emotions and traumatic memories as well as cultivating life-empowering states. Havening Techniques® can be used for:
Trauma reprocessing
State and stress management
Wellbeing and resilience enhancement
Started as a powerful tool to alleviate the consequences of stressful events by re-processing the traumatic memories, Havening has been shown to help people with Trauma, PTSD, Panic attacks, Phobia, Anxiety; Distressing memories relating to relationship breakups, shocking news, embarrassment, natural or man-made disasters, etc.; Anger, Frustration, Stress, Overwhelm, Grief, Loss; Fear of abandonment; Annoying habits, Cravings; Self-esteem, Confidence; Public speaking, Exam/interview Nerves; and much more.
Havening, a transitive verb of the word Haven, means to put into a place of safety.
Havening is a psychosensory method which means that it uses sensory input (Touch) to change how we think, feel and behave (Psyche).
This neuroscience-based method has been developed by Ronald Ruden M.D, Ph.D. and his brother Steven Ruden, D.D.S., ICF/ACC starting in 2001 in U.S.A. The organisation has grown since with Havening Practitioners and Trainers currently working in many corners of the world from Alaska to New Zealand.
Utilising the latest findings from neuroscience, Havening Techniques® have been used in many fields such as therapy, coaching, counselling, personal development, business, sports, etc. The results of the ongoing research studies strongly support the effectiveness of Havening method. For more details of the science behind this work, see www.havening.org under 'Learn More' choose 'White Papers and Articles' http://havening.org/about-havening/articles.
---
Why Train in Havening?
Since doing my Havening training with Julia and becoming a Certified Havening Practitioner, I've been using these techniques with 95% of clients. The feedback from my clients rates 9.81 out of 10 with satisfaction, safety, and connection. This is the phenomenal transformative power of Havening. Havening helps with big "T" traumas all the way along the healing change continuum to Resilience building." - Jane Stammers, EAP Counsellor, NLP Coach & Trainer
Looking for new ways to empower people you work with?
Consider adding Havening to your professional toolkit because:
>

It is simple to learn
> It is highly effective
> It creates lasting results
> It offers empowering self-help tools
> It is based on neuroscience research
And you connect with a supportive, heart-based international community of Haveners all over the world. Be one of the first in this relatively new and evolving field to share Havening with the wider world!
Havening integrates well with a wide range of modailites because it complements, rather than competes. Havening Techniques® are taught to therapists, medics, coaches and many other professionals in care and human development field. These techniques can be used effectively in one-on-one work as well as personal and professional development programmes. It integrates elegantly into NLP Coaching business, and can enhance the efficacy of many NLP change techniques (e.g. Goal setting, Trauma work, Beliefs work, etc.)
The significant advantage of Havening is that it employs a sense of TOUCH, Kinaesthetic sense. Touch, as a sensory input used to effect changes, is largely overlooked in comparison with Visual, Auditory, or Auditory Digital senses. Havening therefore offers more effective ways of supporting those who might have preference for kinaesthetic processing.
"I first came across Havening during a professional supervision session with Julia. Within an hour I have moved from feelings of panic to being calm and settled. I've had a number of Havening sessions with Julia since and find her style intuitive, balanced and results focused. Julia has an extensive skill base that integrates healing modalities, NLP and Havening together to create long terms change alongside building self-agency and confidence. Thank you Julia for walking alongside my personal and professional development journey."- Karyn Chalk, Brain Health Coach, Dunedin, NZ

---
Train as a Havening Practitioner

The training is conducted live via Zoom. (Previous training in NLP can be useful.)
Certification is a two-step process:
Step 1 - Attending the 2-day training
Step 2 - Conducting Case Studies and completing the Science Review
As a Certified Trainer of Havening Techniques® I will provide the training to help you learn as a practitioner and support you throughout the certification process. I can also provide supervision services to help you further integrate these techniques into your business.
Step 1 - Attending the Training
What will you learn and experience in the training:
Techniques that can help your clients get remarkably fast and lasting results
How to use Havening Techniques® as a stand-alone method and/or integrated into your existing approach
Live demonstrations of the variety of Havening Techniques® (such as Event-, Transpirational-, Outcome-, and Role- Havening)
Practise Havening Techniques® with other participants to assimilate your learning
Understand the neuroscience of Havening and how to explain neuroscience in a client-friendly way
You will receive:
A downloadable Training Packet that include: the Manual (the Primer), the Procedural Guide, DVD's of the 2-day training delivered by Dr Ron Ruden
Access to a variety of Havening Community online resources
On completion of your training, you may decide to accomplish the certification process. This is optional, and our experience shows that it is a truly exciting and rewarding experience.
Step 2 - Certification Mentoring Program
Post-training certification process includes submitting your Case Studies to demonstrate your use and understanding of Havening Techniques, and a Science Review to check your understanding of the science behind Havening. This step can be completed in your own time and involves submitting:
30 case studies (we will provide a form and guidelines for filling it out)
2 video sessions (between 15min and 45min long)
Successful completion of the Science Review (this is an open-book review)
Registration with Havening.org

On completion of these two steps, you can join the Havening organisation and register as a certified Havening Techniques® Practitioner. Your profile will be listed on the Havening.org website and you will have the right to use the Havening logo on your website and in any proprietary material that is subject to copyright laws in your country. The membership fee is US$99 and renewed annually for you to maintain your Certified Practitioner status.
Please contact Julia. if you are interested in or have question about this training.
I had the absolute pleasure of working with Julia as my trainer during my Havening Practitioner course, and I can't speak highly enough of her. One of the things that stood out to me was her warmth, generosity, and kindness. Julia was always so welcoming and created a safe and supportive space where I felt comfortable sharing my experiences and asking questions. She met me where I was at in my learning journey and tailored her approach to my learning needs, ensuring that I felt confident and supported throughout the 32 case studies required for the certification. Her feedback was always constructive, kind and so thoughtful, and she was always available to answer all my questions, unpack my reflections and provide gentle nudging guidance when needed. Julia's dedication to her craft and her clients is truly inspiring. I would highly recommend her to anyone seeking a Havening Trainer. - Nicky Cooper, Nurse Extraordinaire | Coach | Therapist, New Zealand
---
Investment
Step 1 - Training
NZ$1,250 covering:
the 2-day training live via Zoom
1-2 Zoom sessions post-training (if needed) to ensure that training material is fully covered
online materials: Manuals, Guides, Videos
Step 2 - Certification Mentoring Program
NZ$1,150 covering:
Assessment of your 32 Case Studies
Assessment of your Science Review
Email/phone support during the certification process
Repeat / Refresh Attendance

You are welcome to repeat this course at 1/2 price ($625).
Please note that these are complete prices and there is no GST component.
Annual Membership with Havening organisation is US$99.
Training DATES
Upcoming courses - 2023, 9-10 December IN-ROOM in Kawai Purapura Centre, Albany, Auckland, NZ
2024, 23-24 March ONLINE ENQUIRE / SIGN UP
If you like to arrange different dates for yourself and at least one other person, please contact Julia.
Completed in 2023: February 18-19, March 25-26, June 17-18, August 5-6, August 21-22, October 23-24 (Egypt)
Completed in 2022: May 28-29, August 2-3, August 6-7, October 29-30, December 3-4, December 15-16
---
What Professionals Say about Havening and Their Training Experience

Intensive, thorough, well organised, and well presented. I have presented many training and educational seminars in my 40 years as a Manager and CEO in business and I have attended many global seminars also, and this was one of the best. I really enjoyed it. - Cathy Allen, MBA, AREINZ

A refreshingly new experience that will help you to be more in tune with yourself and work with clients, who are emotionally stuck, in a gentle and effective way.- Renate Bellve-Wack, Clinical Psychologist, New Zealand

Very effective, positive and hopeful. I find it energising, encouraging without retraumatizing the client. - Christine Vorster, Clinical Psychologist, New Zealand

Techniques that I can immediately utilise in my personal and professional life. - NLP Coach, New Zealand

I've never before found a technique that so consistently delivers such transformative results and can be melded so seamlessly into my sessions." - Marijke Miller, Holistic Trauma Therapist

August 2023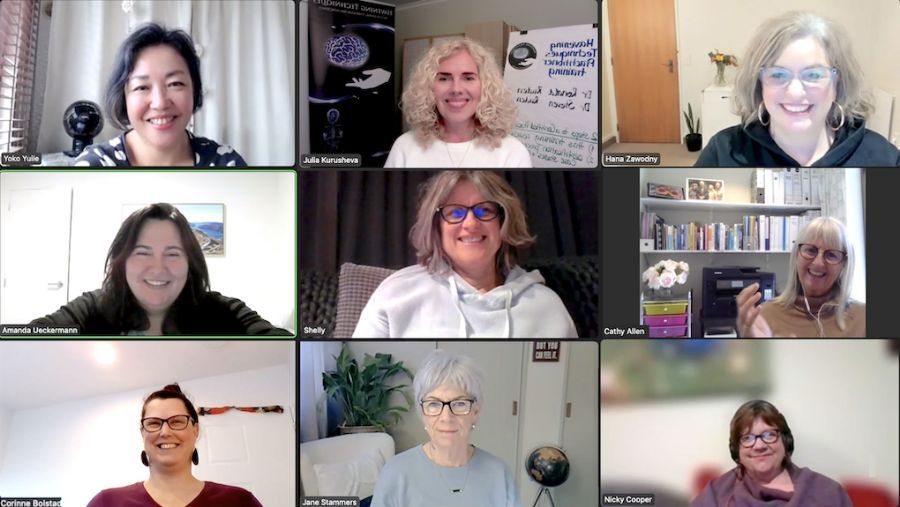 March 2023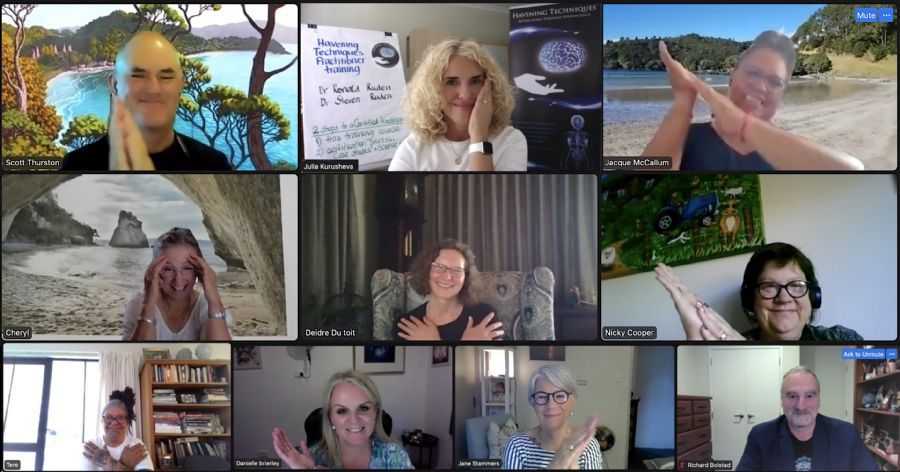 December 2022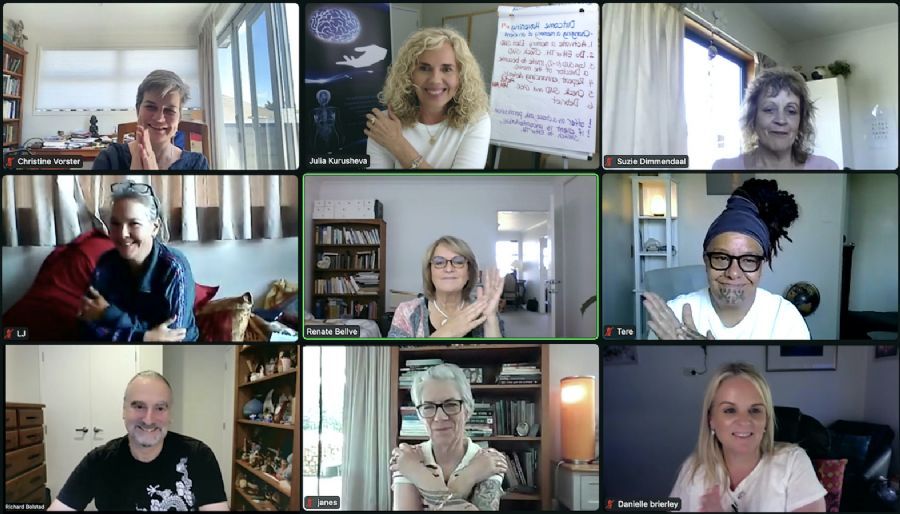 Several Training Courses 2022-2023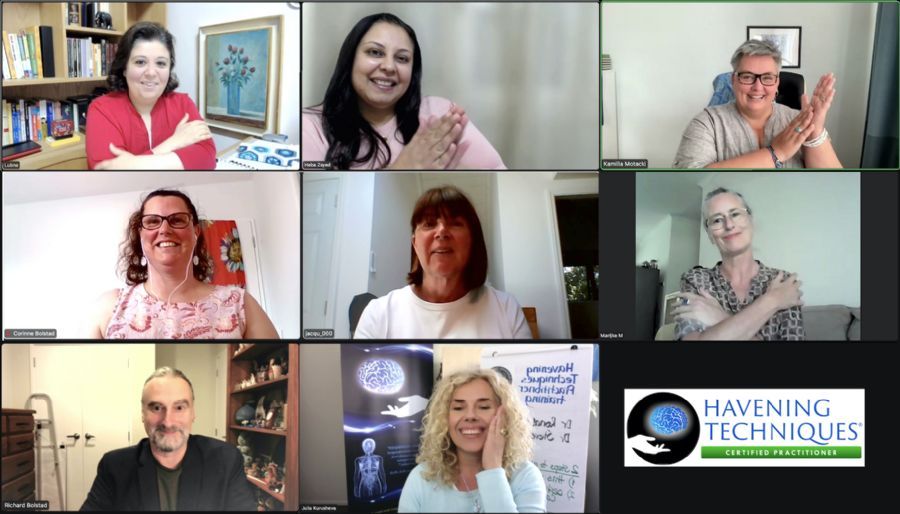 October 2022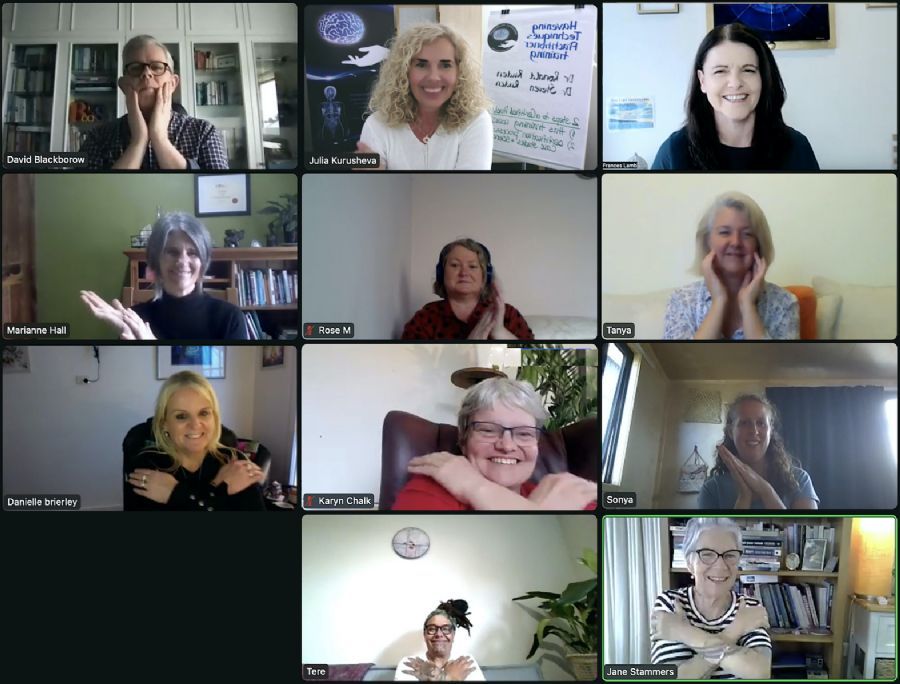 May 2022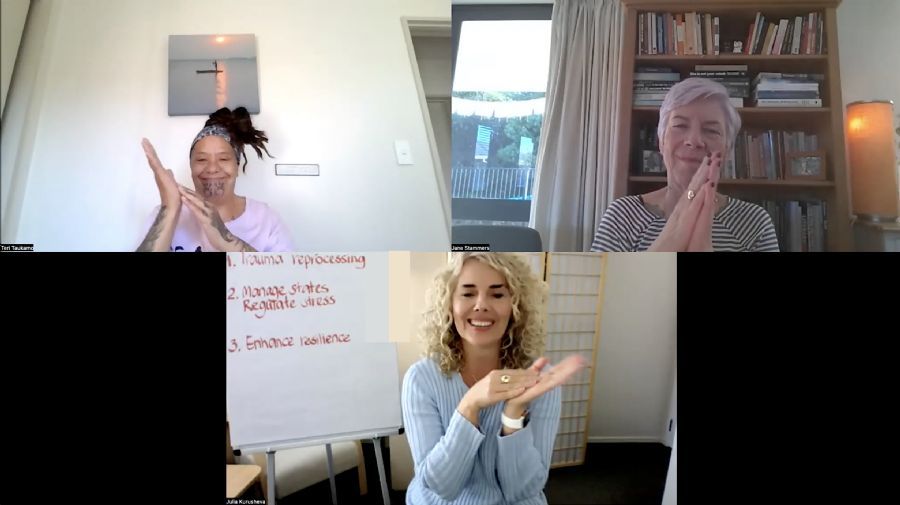 "I highly recommend this training if you're someone already working in the field who wants a really gentle, yet incredibly effective tool in your kete (basket). I find myself using it more and more as part of my practice because I've never before found a technique that so consistently delivers such transformative results and can be melded so seamlessly into my sessions." -
Marijke Miller, Holistic Trauma Therapist, Australia
"The Havening training was amazing. The evidence-based research was interesting, easy to understand and even easier to explain to those I come in contact with. The exercises were really useful to experience the processes first hand. The population I work with are those with addiction issues and a huge percentage have endure one or more traumatic events. Havening has been a tool to address the stress they have been experiencing; have described phenomenal change and report being able to function in a way they did not think possible. Many have reported a feeling of empowerment and a resilience that has been described as "useful moving forward". This was totally my experience during and after the training. Thank you, Julia " -
Tere Taukamo, Mental Health & Addiction Clinician, Te Piki Oranga - Wairau
"It's been an incredible weekend. I am completely surprised in many ways - it has been magical, full of hope, and seemed so elegantly easy in a powerful way. And it fits with what I know already. I felt blessed to have this opportunity to learn it with you especially. The way that you teach, your heart, your love, your passion, the engineering of putting it all together and the delivery of it makes it so easy to absorb. I feel so incredibly resourced and safe to start exploring and using it. That safety that we are imparting, that Havening has for all our clients, I feel it reciprocated already so that I feel safe in learning it and starting to apply it. The exercises were surprisingly emotional and magically transformational. Thank you." - Jane Stammers, EAP Coach
"Absolutely amazing! An opportunity to learn a modality like no other - a psycho-sensory therapy based on neuroscience. A powerful addition to an existing coaching/ counselling/ teaching role. Provides the opportunity to become part of a phenomenal supportive and growing global community (of individuals facilitating the healing of trauma). - Lara-Jane Peet, Coach, New Zealand
---
Julia Kurusheva is a certified trainer and practitioner of Havening Techniques. Havening Techniques is a registered trade mark of Ronald Ruden, 15 East 91st Street, New York www.havening.org